Application ...
Name:hillary
Age:15/16 on thursday.
Location:palm city, FL.
10 favorite bands:
saves the day
underoath
before this last breath
fear before the march of flames - who recently got huge out of the blue but w/e -
michelle branch -you have to admit shes fuckin good-
calling blue skies
postal service
atreyu.
i
dont
know.
3 favorite books:
i
never
read
books
unless
i
have
to
for
school
2 favorite movies:pff um. harold and kumar to go white castle
and um maybe napoleon dynomite. or somthing. i like comedy movies. i hate the fucking dumb elitest bitches who sit there saying " I ONLY WATCH INDIE MOVIES " its dumb.
1 favorite animal: pigs, or ducks.
Why do you think you own? because im wearing pajammas..
Do you like the word pwn?no. not really.
What is something unique about you?i just streaked my hair with REALLY bright pink.
Promote this community somewhere (AND SHOW THE LINK!): http://www.livejournal.com/community/wow_x_core/7585.html
Atleast three pictures of you. clear, pictures.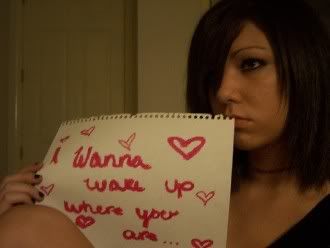 etc. you know.
...Any last words?
nope